Discover more from Thirty, Flirty + Film
Hot takes and cultural criticism in 30 minutes or less.
Issue #8: There's Something In The Air... 🎥
The Watermelon Woman + Happy Together


A lot has changed since we last touched base in your inbox: It's Cancer season now; officially summer; the longest day of the year is over; July is next week?? But some things haven't changed—like, you should still probably avoid going outside no matter what the reopening schedule near you is like, there's still a fight going and funds need, and we're still bringing you two film reviews written in 30 minutes or less. 

Below is another week of our Pride month programming—this time focused on the sort of ineffability of two queer classics. Both the films this week capture a mood, a feeling of something that has no precise dictionary definition. Cate writes on Cheryl Dunye's classic The Watermelon Woman, a lovely story that examines queerness from different angles. Zosha is diving in on Happy Together by Wong Kar-wai, with all the melancholy that comes with it. 

Plus: fun reads, and more ways to help the culture. Read on! 
---
Zosha on Happy Together
Written and Directed by: Wong Kar-wai
Distributed by: Kino International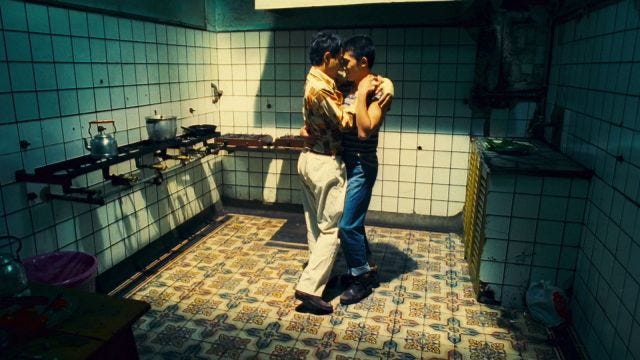 Does anyone evoke the feeling of a memory the way Wong Kar-wai does with his films? There's something about the way his movies just make the loneliness, the melancholy, the emotions tangible, practically popping out of the screen. 
The way he moves the camera feels like its own form of naturalism—not so much the way we peer in on ourselves in our imagination, but in a way that feels like the perfect place for a camera to observe from. There are frenetic cuts, either around the room or onto a new scene entirely. It's volatile, but it's not a removed style of directing. Rather, the way his camera traces his players seems to mimic the way a memory rests in your chest: close to your heart. 
It's a style that seems almost antithetical to what we usually see in film-making, where cameras get real close for happiness. When Fai and Po-wing are in good spirits in Happy Together, the camera is at a medium distance, maybe even further, as if to tread lightly around their delicate union. But when they're angry—well, then Kar Wai keeps the camera close, pulling in and out, tight in their emotions. It feels to me the way a fight settles in your brain: logically you can only see your partner from one vantage point, but in your head the emotions make the whole thing feel dynamic, like smoke curling around you and filling the room, distorting the view. 
There's a sense in Happy Together that nothing is really real. Not Argentina, where Fai and Po-wing have settled to find some peace together. Certainly not Fai and Po-wing, whose relationship is rocky and almost hypnotic at best. The city, their dingy apartment, the streets they walk—everything seems to constantly be turned up to the wrong level. Lights gleam, but a little too much; beyond a twinkle and into a glare. The air is thick with the green and yellowish contrast that colors their studio. It's all a little too jagged, disorienting. Fake.
I don't mean this to be a dig—on the contrary, it's the perfect mood for this slice of life. The sensory overload seems to mimic how Fai and Po-wing know they're out of place, know there's a deep unrest between them that can't be solved. But, like any performance, they want to buy in. They want the "Let's start over" line to work and stay working for once. As the two bicker, and spar, and dance, and fuck, and break up, and drunkenly connect, and fight, we know it's all part of an on-going production. Whatever bliss they seem to experience together certainly can't ever be part of the public show; it's just a state of mind. The lights are so bright that all they can do is shut their eyes and become blindly attached to whatever they once saw in each other. 
For whatever homophobia might live on the peripherals of Happy Together, it's not often namechecked. Unlike another 1997-set production, American Crime Story: The Assassination of Gianni Versace, homophobia isn't explicitly evoked to shame or corral these men into a relationship together. (Though it seems telling that so much of their lives is in subtext, shot at night; a grittiness, if nothing else.) Their sour bond is the kind that has to burn out, either in a blaze of glory or just sadly smoldering embers. Happy Together chooses the latter, with Fai finding a way out and leaving Po-wang behind with barely as much as a note. Fai finds some part of himself that more eagerly seeks repair, and acknowledges that no matter how much he wants it, Po-wang can't give it to him. 
It's bittersweet, but it's something. Wong Kar Wai, a master of realism and the tinge of sadness at even a broken part of your life being left behind. It's like a wistful memory of a life I never lived, but understand intuitively. Plopped at the wrong side of the world, just trying to turn the world right-side-up again. Magic. 
---
Cate on The Watermelon Woman
Written and Directed by: Cheryl Dunye
Distributed by: First Run Features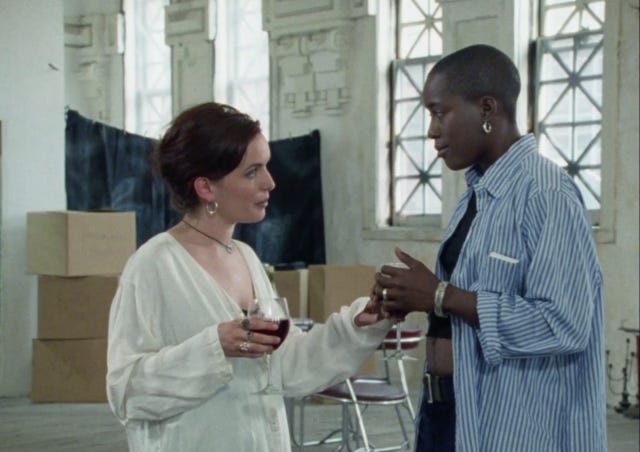 There's something very specific that marks a film as queer. Whether it's queer in theme, sentiment, or form, queerness is something that can nearly always be located in a film of any kind. Cheryl Dunye's 1996 debut feature The Watermelon Woman was queer along many axes at once, and it's for that reason the film is considered a pioneer in New Queer Cinema. As the first feature film to be directed by an out, black, lesbian filmmaker, it is significant not just for existing, but for its gaze. 
Told in the style of a documentary, in The Watermelon Woman Cheryl (played by the director) is an aspiring black lesbian filmmaker making a film about a black actress from one of her favourite films. The fictional "Plantation Memories" features a Mammy character who goes unnamed in the film's credits, heightening Cheryl's interest in her, and sending her down a path of excavation to uncover the hidden history of queer black women. 
Initially, I found the film confusing and it's indie spirit a little disorienting. But the longer it went on the more I came to appreciate it's work to illuminate the ways queer people—and especially queer black people—are erased from history by invisibilizing them in real-time. The fictional Fae Richards serves as a stand-in for all the queer black women who were forced to hide parts of themselves to survive. 
Concurrent with Cheryl's discovery of Fae and her relationship with Martha Page, the (also fictional) white female director of "Plantation Memories," she begins a relationship with Diana, a white woman she meets in the video store where she works. How this relationship affects her friendship with friend and collaborator Tamara is where things get into the weeds. Nothing black women do is without an awareness of racial power dynamics and dating a white woman causes friction with Tamara, who accuses her of wanting to be white. 
Having this happen alongside her contemplation of Fae's relationship to Martha colours their budding relationship. How much of Cheryl's pursuit of Diana is wrapped up in a desire to over-identify with Fae? Cheryl is surprised and happy to discover that Fae was not only a lesbian but that she was out to her community had a long term partner. In a way, she provided a possibility model for her to draw from in her own life and to fashion her own life after. To be frank, there were not a plethora of black lesbians on film in 1996. Discovering that the subject of her fascination was family would necessarily be an affirming shock to the system. 
What is really fascinating though is that underneath all the plotting and plodding, The Watermelon Woman is a reflection on erasure. The film itself was inspired by Dunye's own quest to find information about black actresses in early film. This movie is a reflection of the fact that she could find none in any of the archives or history books. The contributions of black women were not just erased, but often never recorded at all. As a result, the queerness bubbling underneath never saw the light of day. 
The Watermelon Woman is a landmark film but it is also much less straightforward than the queer films of today. This isn't a studio film by any means, but it is an experiment in form that illuminates a much larger and more urgent cultural truth.
---

¡Viva La Revolución!
Here's the quick and dirty rundown for this week:
Petition for Elijah McClain
Go Fund Me for Jeaux Henry's Top Surgery
Go Fund Me for Yve De Shon's Medical Transition
Go Fund Me to help Kendal Hart get safe housing
Go Fund Me to Support A Free Soup Kitchen for mothers and children
Go Fund Me To help an at-risk youth secure safe housing

A few more community funds in need of financial support:
https://www.theokraproject.com/
https://www.lgbtqfund.org/
https://www.lavenderrightsproject.org/
https://www.instagram.com/forthegworls/
https://www.snap4freedom.org/home

A handy resource for non-black people looking to do the work of anti-racism.
And a final, happier request for birthday cards for Mari Copeny's 13th Birthday. Mari is the activist who has bee on the front lines of Flint's ongoing water crisis.
---

Assorted Internet Detritus
Cate: This week I'm reading about The End of the Girl Boss Era as the media industry finally starts coming to terms with its racism under the banner of feminism. I'm also reconsidering the message of HBO's Watchmen in the wake of renewed protests for Black Lives Matter. And most importantly I'm grappling with issues of police and prison abolition and why the absence of police would likely serve victims more than their current presence. We're all having to consider some big ideas about the way we want to change how our world functions at a fundamental level, and turns out the best way to do that is to read!

Zosha: This week I've been reading this great opinion piece on how we think about objectivity in journalists, and why this moment calls (more than we were already) for a revisiting of those values. This week's piece also made me revisit an old BWDR piece Lindsay Goldwert wrote about Wong Kar Wai and Anthony Bourdain's love of him; I think it's just lovely, and Bourdain's memory always makes me feel a lot of things.  

That's all for now. Issue #9 will round out our Pride Month coverage with Frida and Bessie. Toodles!

Avoiding the outside, but screaming about movies, 
Zosha + Cate <3
Twitter: @30FlirtyFilm
Instagram: @30FlirtyFilm