Issue #7: The Queer World Order 🌍
Desert Hearts + Dirty Computer


Please read this in Fiona Apple's sultry, besuited voice: Ladies, ladies, ladies, ladies. We've made it through another week and with it another subdued section of Pride month (hope we're all staying safe and responsible out there, folks). So enjoy another Friday Pride-filled dispatch from the gals here at 30, Flirty & Film.  

You should know the drill by now because it's the same as always: two essays on two different movies, united by a common theme. This week, you've got Cate on Dirty Computer, the "emotion picture" accompanying her fabulous 2018 album of the same name. Meanwhile, I've written on Desert Hearts, the seminal Donna Deitch 1985 film regarded as one of the first wide-release films to present a positive portrayal of lesbianism. 

Which is all to say, again, regardless of your identity: ladies, ladies, ladies, ladies. Let's get into it.

And Happy Juneteenth!
 
---

Zosha on Desert Hearts
Written by: Natalie Cooper
Directed by: Donna Deitch
Distributed by: The Samuel Goldwyn Company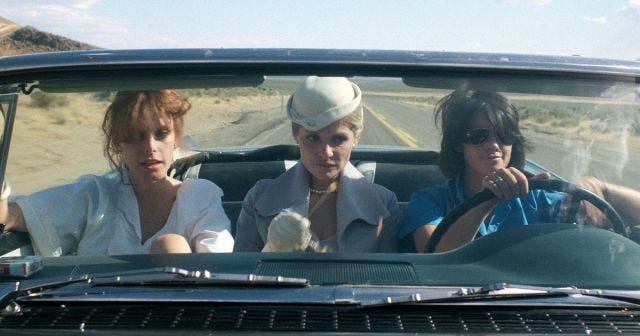 I have read so many stories over the past few months about the new world order that's coming our way. Now that we've all been hunkered down for a good amount of time, penned into our homes, left to our thoughts and devices, it seems that we can all acknowledge that there's no going back to the world that was before. 

What seems to be acknowledged, in these castaway sentences that assert life as we know it is over, is that we're in for a change. And yet, every time I read that, I feel I am, at least briefly, pulled out of whatever article it's in—how much of a change can I really steel myself for? Because at this point I want it to be a big one. 

I had this thought lingering in the back of my mind when I started Desert Hearts, watching Vivian and Cay be inextricably drawn to each other. In a certain way, their love is its own world-shattering event. Life, as they knew it before, will never be the same. For Vivian, it's a matter of a whole new world, one where she lets passion guide her, free her, awaken her to something she acknowledges she wants now. While Cay already lives her life out loud, she too has to accept a new order to her life, one in which she strays from what just feels safe.

Yes, it's sort of your standard coming out story. But it also understands these things on a deeper emotional level than so much coming out media does, often feeling like it has to be written so an alien would understand it. Desert Hearts is about adults, with adult lives, building an adult relationship. Their budding romance — along with its pitfalls, confusions, and clumsiness — is told as such, delicately pushing past an "opposites attract" narrative to something more profound. It's about choosing to go brave.

In many ways, Desert Hearts feels delicate the same way Carol felt delicate, both heavily favoring talking around deep emotional wells. Indeed, the films even use similar tactics to frame their lovers as divided from other people, segmented off in the frame by windows and porch rails. But where Carol's pastiche is all rich and vibrant silkiness, Desert Hearts is a rugged, pastel sunbeam of a romance. It doesn't really rage against the institutional politics that keep couples like Cay and Vivian apart. Whenever the issue of homophobia is broached, it's at a local level—the sting of Frances' rejection, or how their relationship can be made to feel less than. 

Ultimately it makes the happy ending feel so much more triumphant. It's small, and maybe even open-ended; they're quietly carried away on a train together rather than desperately running after it. But their interpersonal victory feels like the kind of emotional payoff you'd hold close to your heart in real life. Who hasn't felt that in order to follow their heart they'd have to turn their universe upside down and shake it for loose change? Don't those brief moments of going brave for love feel the sweetest? 

If they stay together, their love may be a closeted one among Vivian's East Coast academic circles. But the world has, in however small a way, rearranged itself to make way for caring. They did the bold thing and chose to leap into a life that would upend everything they knew for a shot at greater happiness. That's not nothing—in fact, it may be all any of us can hope for. 

I think for many people when they invoke the idea that the world is rearranging itself, they mean this surface level of society post COVID: handshakes, probably out; flying, maybe; public life, in some way, almost certainly unrecognizable. But I want more than that. I want the essential workers I know to be safe, cared for, given healthcare. I want a real fucking new world order after all this is through. At this moment in time, I'm not really sure what to do about it. But (saccharine as this may be) Desert Hearts serves as a reminder that big victories come from hundreds and thousands of tiny little ones, between a few loved ones, and shared to the next.
 
---

Cate on Dirty Computer
Written by: Janelle Monáe
Directed by: Andrew Donoho and Chuck Lightning
Distributed by: Atlantic Recording Company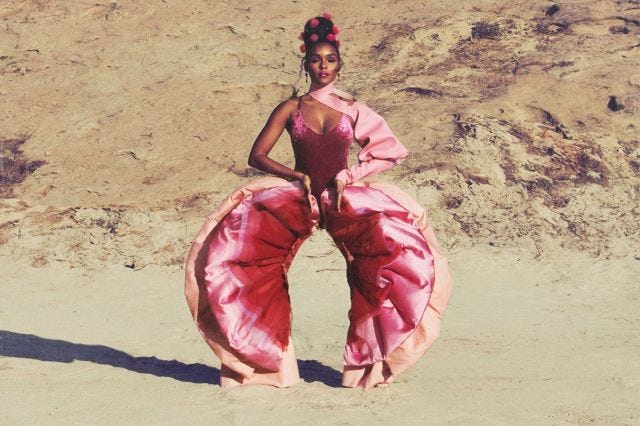 Janelle Monáe has always been a rebel. When she first appeared on the scene in her black-and-white suits and teased bouffant, no one knew what to do with the black girl musician and rapper who refused to colour within the lines. For years she added to the mystery of her persona by refusing to answer questions about her personal life or sexuality, insisting that she was "part android" to reporters who dared to ask

But with Dirty Computer—the film accompanying her album of the same name and coming five long years after her groundbreaking album The Electric Lady–Monáe finally lets us into her head and shows us a little more about her worldview.

In Dirty Computer, Monáe tells the story of two star-crossed android lovers who are being pursued and hunted because they are "dirty computers." Anyone who is different, radical or subversive is captured and reprogrammed so that they can be realigned with the beliefs of a mysterious and omnipresent malevolent force.

With the film, Monáe explores themes of sexuality, resistance, blackness, surveillance, and queer identity all through the lens of her music. The science-fiction epic is a speculative look at how the state seeks to suppress individualism and expression.

Her resistance then is to be more herself. In the form of a series of music videos presented as her "dirty" memories scheduled to be cleaned, Monáe fills the screen with colour, light, and brightness. She drives through the wide-open plains of the U.S.A. with other black women dressed as their most authentic selves. She attends parties with rebels and subversives. She sings and dances with her new lady love (played by Tessa Thompson) and affirms that she can be attracted to whomever catches her eye.

At its root, Dirty Computer is a reassertion of humanity. The images presented range from the hyper-literal to the hyper abstract, but they all serve one purpose: to reinforce that she contains multitudes, and the forces both real and imagined that would have her simplify who she is to make them more comfortable should be rejected and destroyed.

Dirty Computer is an affirmation but it's also a manifesto. The music's lyrics indicate a deep understanding of not just queer identities, but also of how those identities are complicated and deepened by blackness. Monáe is a queer woman (she identities as pansexual) but she is also a queer black woman. The themes of surveillance that run through the film are no accident–she is part of two social minorities who have been and continue to be subjected to the outsized brutality of the state. Living authentically in her queer identity necessarily means living and existing in opposition to those systemic forces. 

But in addition to the lament of songs like "I Like That" and "Django Jane," Dirty Computer is also full to the brim with joy. From "Pynk" to "Make Me Feel" to "Crazy Classic Life" Monáe does not neglect to make sure her audience knows that being queer and being black is fun. Both communities–through their resistance–have produced their own thriving, beautiful cultures that enrich the lives of those within them, and that culture flourishes both because of and in spite of discrimination and attack. 

Dirty Computer deserts Monáe's work woman's uniform of black and white suits and presents her instead in bright pink skirts and dresses, towering hairdos only capable with black hair and skin-baring tops that remind you that part of sexuality is sex. Dirty Computer is gorgeous to look at, but its embrace of sex, sexual tension, and lust cannot be overlooked. Part of what is at stake is the ability to feel those things for whoever one wishes, and by centering sexual attraction, Monáe normalizes it while still fighting to keep it within the realm of titillation where it belongs. Why not have your rumored girlfriend poke her head out from between the folds of your labial pants? Suggestion and innuendo are cheeky fun, but there's room to be overt as well. To be frank, sex is sexy and she demands the right to say so.

It's hard to write about the visual feast of this film without touching on the music itself but the two complement each other perfectly and create a new synergistic, world in which revolution is demanded as a means to survival and the lives of black queer people are central and will be defended. What Monáe created here is a feminist statement of intent, and it should be celebrated.
 
---

¡Viva la Revolución!
This week's petitions are seeking justice for the deaths of Tete Gulley and Christopher Kapessa, as well as the disappearance of Vanessa Guillen. And just for fun, here's one to renew ABC's The Beauty and the Baker, one of the too few shows on television right now centering the Latinx experience.

We've also got GoFundMe fundraising pages for Brandon Saenz (a young black man in need of surgery after his face was shattered by rubber bullets), Robert Crittle (a black thrift store owner losing his business), Rashida Renee (a black trans woman funding her medical transition) and Naima Dolly (a black trans woman seeking help with living expenses during COVID-19).

And once again, we've got a master post to bail funds, for funding bail either locally or across the country. Give what you can, sign what you can, and share them so others can do the same.
---
Assorted Internet Detritus Zosha: Like Cate and the crocodile section above, my practical mind has been set on the ins and outs of police abolition, including how we incorporate the guidance from former cops calling for abolition and the cops we see on television. I've also been reading some of my favorite thinkers on how to reimagine (or, actually frame) what whiteness means in a time like this, and how to reckon with the monuments to it of the past, like Gone with the Wind.

Cate: This week I cannot escape the incredibly messy saga of Amy Cooper, as told to and by The New York Times. If you recall, Amy Cooper was the racist white woman who called the cops on black birder Christian Cooper in Central Park when he asked her to put her dog on a leash as was required by law. When the latter Cooper's video of the incident of the video went viral, the former Cooper was fired from her job, forced to relinquish her dog and generally held up as an example of the callousness of white hegemonic power! Well according to The Times, Amy is also a messy bitch who lives for drama, and all that drama is now part of the official record, including her affair with a married man and the money she lent him to pay for an abortion for his other, non-wife lover. Yikes! They say when you have nothing nice to say, say nothing at all but I'm petty so I'll say this: read this story and get your life.

If you'd like something a little more practical, I've also been reading up on police abolition, what it means and how we can reshape society once we eliminate cops. There's even a fun cheat sheet from MPD150, a self-described "people's project evaluating policing."
 
---
Well, it's been a hell of a week! Take care of yourself, watch some movies and remember that it's ok to take breaks when you need them. In issue #8 we'll be yelling about Happy Together and The Watermelon Woman.

Casually chatting about movies, 
Zosha + Cate <3
Twitter: @30FlirtyFilm
Instagram: @30FlirtyFilm