Issue #4: In The Next One These Cars Will Be In Space 🏁
The Fast and the Furious + The Fate of the Furious


Boy, do we have a treat! for! you! In *waves hands dramatically* the time before corona, today would have marked a most auspicious occasion—namely the release of the ninth film in the world's most iconic film franchise: Fast and Furious. Since the pandemic has pushed the film's debut all the way to 2021, we thought we'd commemorate the day by making this a full Fast and Furious edition of the newsletter. It's in keeping with the alternate title for this issue: "We Don't Got Friends, We Got Family."

Now, Zosha is an F&F virgin, but I am have been all in for these incredible, ridiculous movies ever since I saw Fast 5 on a date in college. It was The Rock who sold me, and I've been a Fast-Head ever since. To say that I'm disappointed about The Fast Saga's delay would be the understatement of the century. I've been anticipating this movie for three years now, and The Fate of the Furious remains the single best cinematic experience I've ever had, second only to Avengers: Endgame (adrenaline, it's a thing). But I'm sooooo excited that I got to cajole Zosha to introduce herself to these wonderful films, and that I had an excuse to rewatch them myself. 

As usual, the same rules apply. Zosha will be writing about the franchise's first film—The Fast and the Furious and I'll be writing about its last—The Fate of the Furious. (In this house we don't acknowledge Hobbes and Shaw.) So strap in, get ready, and enjoy this bonkers edition of our new favorite thing. And oh yeah, #JusticeForHan!
 
---
Zosha on The Fast and the Furious
Written by: Rob Cohen 
Directed by: Gary Scott Thompson and David Ayer
Distributed by: Universal Pictures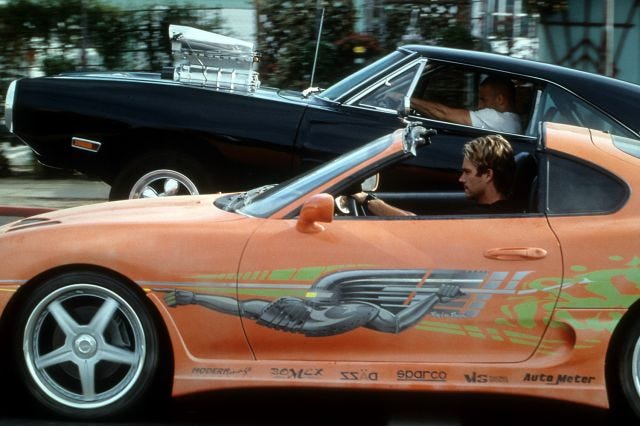 One thing that is clear post-The Fast and the Furious is that I simply do not drive fast enough. 
Yes, before now I had never seen a Fast and the Furious movie, and apparently that's just unacceptable to many people whom I love. So I have fulfilled my promise to start watching them by starting with the very first, an absolute image of a bygone era of filmmaking and Fast movies. 
Here is a non-exhaustive list of moments that genuinely surprised and bewildered me in watching the very first Fast and the Furious movie: 
Just so we're all clear: This movie is called The Fast and the Furious. We seem to have, [Social Network-voice] "dropped the the" over the years, but something about it seems like a throwback to an outmoded era, when men could be men, and exploitation films made actual commentary. 

As we watched the opening heist go down, my boyfriend expressed concern that the TVs that were being stolen "weren't even going to be worth that much." What a time capsule of specifically summer 2001 The Fast and the Furious is! 

Everything is introduced fast, sure (and furious, alright), but it's also….very slow? Ten minutes in and we've still seen only one car chase where we weren't even sure what is happening. Drive boys!

Once we did finally get to the race, I couldn't believe that they drove all the way to an open street to race their cars at startlingly fast speeds in a city zone, only to...spray paint a start line...directly behind the already painted crosswalk line. 

Absolutely no Flintstones joke about Brian's (Paul Walker) car floor being missing. Dominic (Vin Diesel) is a more high-brow fella than myself, I suppose. 

I do not believe that Michelle Rodriguez and Jordana Brewster are straight in this movie! And truly, the movie does very little to make me believe it. Like the Troy/Britta pairing on Community, almost every plotline they have with their respective paramours is interrupted or fueled by an outside relationship. I haven't watched the rest of the movies yet, but I would like someone to tell me that they are now dating, thank you!

The sheer amount of macho bravado — OK listen: I know that there is an entire subgenre of films that is men being together and being men and talking manly things. But there is something within the first Fast and the Furious that is so forced. And interestingly, I don't think it stems from the actors!

It would be easy to say that Diesel or Walker were novices (they were) and that their acting wasn't quite up to snuff (eh). But truthfully, Diesel walks a tightrope of a performance between pent-up rage and almost zen tranquility. The entire backstory with his father and the car and the quarter mile at a time — that works (presumably) eight movies later because he sells it in that first scene; it's hokey, but it's believable. Walker, meanwhile, coulda just been a late-'90s heartthrob lacking command in a leading role, but he does a lot of work to sell "rookie cop with high-falutin' aims who is suddenly in over his head professionally and emotionally speaking." He has to constantly be wavering between these two sides of himself, and in each one he's fairly credible, making for a cohesive person. 

As someone who now ~lives in L.A.~, it was great to watch them turn a corner and suddenly be in an entirely new pocket of the city. That being said, they were going like 120mph, so it's possible they just were. 

Everything about the final showdown is almost bafflingly muddled and unresolved. Walker tracks Diesel to a house, they're subject to a drive-by shooting, killing(?) their comrade. They leave Walker's girlfriend/Diesel's sister to deal with that, and separately go to chase down the rival gang that shot up the car (that they were supposed to have ownership of now?). Rival gang gets taken care of, Diesel drives off. Walker follows! They drag race and beat a train, and then Diesel gets into a wreck. He's fine, but the cops are coming so Walker tosses him the keys to a car and tells him to skidaddle. Then Walker turns to face what is sure to be a shit-ton of paperwork and professional liability. 

On the one hand, this is the emotional payoff of the entire "emotional" arc of the film: Dominic learns to trust. Walker learns to choose. (Ladies learn to take a backseat to the men?) It's stylized almost like a Peckinpah film, all extremes and braggadocio. On the other: Almost no immediate motivation within this scene makes sense! There would've been other ways to prove loyalty, I guess, and so the only way I can think to read this is love. 

In a certain sense, it's a bold pronouncement on the part of what is, mostly, a blockbuster about shiny cars going real fast. Love is bond, love is oak, love is forever. Love will compel you to do nonsensical things, like betray your FBI and LAPD bosses (sure!), your ideals, your values, your way of life. Love is family, and that family is going very fast down the highway so you better keep up. 

OK but seriously: He had a car in his computer! So he could hack and go faster? Every one else simply pushes one button and then another button to trigger the NOS — not Officer Paul Walker Speedy Man! He is typing his way to the future.
---
Cate on The Fate of the Furious
Written by: F. Gary Gray
Directed by: Chris Morgan
Distributed by: Universal Pictures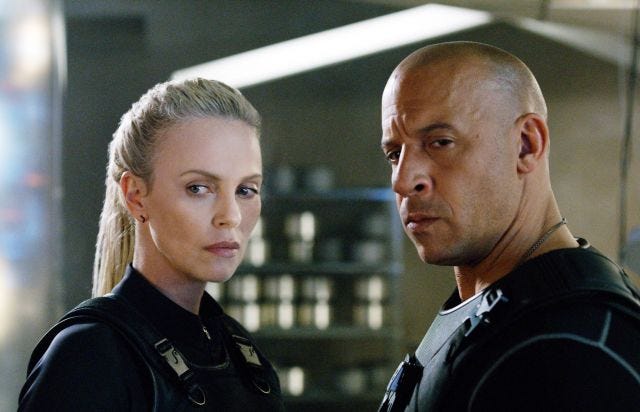 Ok, so the truth is, it's hard for me to even talk about this film without losing my goddamn mind. I... love this movie with everything that I am and everything that I have. All my years of consuming and critiquing media have led me to this masterpiece. There is simply nothing I can say about this movie that won't make me sound like a complete and total lunatic, but I'm committed to evangelizing its virtues, so I'll try my level best. 

The first thing you need to know is that I'm not delusional. I am paid to review movies as a whole professional critic and I am not under the mistaken impression that this movie is necessarily good. In fact, I completely understand and agree that by all objective merits this movie makes no goddamn sense and does not hold up to even a half-second of narrative scrutiny. 

However. 

It is fun AS FUCK. This franchise is my go-to example when I explain the differences between a good film and a successful film. The Fate of the Furious is a successful film, because it knows precisely what it is, what its audience wants out of it, and how that should manifest onscreen. And then it MOTHERFUCKING DELIVERS. You wanted a car race in Cuba the ends with a car engulfed in flames and careening into the sea? You got that shit. You want a prison riot where Dwayne Johnson and Jason Statham very homosexually threaten to beat the living daylights out of each other? You got that shit! You want two Oscar winners vamping to the high heavens and convincingly pretending they're not above all this nonsense? You got that shit! You wanted to see a high speed chase involving a Russian submarine? YOU GOT THAT SHIT !!!! 

There is nothing in this film that is not perfectly calibrated for an audience that has been primed for high drama over the course of two full decades. This franchise is rivaled only by Grey's Anatomy (yes bitch, it's still on) for how deep its lore is, and how well it integrates past foibles into present conflicts. As the series grew and got more international and far less plausible, it also got more thematically cohesive, driving (heh) home its ideas about family, loyalty and the value of maintaining your innate goodness.

I have to admit, I did forget just how much pointless dick swinging happens in this movie and it was easily the most boring part of the entire endeavor. But I also know that my hands literally start shaking when I remember how I felt when Charlize Theron's Cipher revealed who she had kidnapped to convinced Dominic Torretto to do her bidding and why. Readers, I SCREAMED. And I won't reveal who it was, only because I think it is so delicious that it deserves to be experienced firsthand. Truly, it was cinema's finest moment.

The Fast and Furious franchise is one that rewards viewers for their investment. That's especially clear with the confirmed return of fan-favourite character Han for the now-delayed F9. For years, Han's death was a pock mark on a near flawless cinematic universe—one that inspired protests and hashtags and snarky essays. As the only Asian character in a sprawling main cast that is to date, one of the most casually diverse in the world, Han's death at the hands of a white villain who was smoothly invited into the fold (and even given a spinoff!) remained a point of contention for F&F loyalists. But Han's return signifies that the franchise knows how to do fan service right. We won't know how they managed to pull it off until next year, but we do know that they found a way to give us precisely what we've wanted all along.

There's nothing I can say that will convince you to relinquish yourself to the pure absurdity of this film or this franchise if it's simply not your thing. But I will say, preeminent feminist author Roxane Gay agrees with me, so there.  ¯\_(ツ)_/¯
 
---

Assorted Internet Detritus

Zosha: Speaking of thrill rides, in post-grad life I've been reading How to Do Nothing (finally), and also re-reading The Secret History (finally). Which makes this oral history about the bizarre period of time when numerous future-famous authors were all at Bennington College (including Donna Tartt, author of the aforementioned Secret History) a lot of fun! As for film this year — well, here's to Margot Robbie taking the Oscar, and the threat of men who you can't even see on screen. 

Cate: This week my major focus is making it through this massive oral history of Mad Max: Fury Road, my favourite dystopian film that I'd never have seen if the man-babies hadn't had an absolute conniption about there being too many ladies in it. Apparently there was a TON of drama and tension on set, which—have you seen the movie? But both leads were gracious about how they could have been better colleagues to each other during filming. I can't wait to read the back half of the piece. I'm also getting a wry chuckle from this piece about the lack of reproductive care in the Star Wars universe. It's pretty much summed up by this graf: "At the end of Episode III, Anakin gets three limbs chopped off and then falls into hot lava. He lives. His wife has babies, under medical supervision. She dies." I have no investment in the Star Wars fandom so DO NOT YELL AT ME  but it did remind me of a review I wrote about the Netflix film What Happened to Monday, which has similar "please give the women adequate medical care" vibes.

Next week, it's all out war. In issue #5, Edge of Tomorrow and Paths of Glory. That's all for now. Ciao!

A little hoarse, but still yelling about movies 
Zosha + Cate <3
Twitter: @30FlirtyFilm
Instagram: @30FlirtyFilm

PS. There was no way we could let this day pass without a sense of occasion, so to comfort ourselves in light of the F9 delay, we'll be doing a livetweet of Fast Five on Saturday 23rd May at 5PM PST. The movie is currently streaming on HBO, and is available to rent at all your usual digital purveyors. We'll be starting promptly, so make sure you've got your six-pack of Corona (oof!) and your vroom vroom machine ready!