Issue #20: Never Work a Day In Your Life 🌧
Memories of a Murder + La La Land

Funny thing about working: sometimes we're bad at it. Whether we're doing work we love or work we hate, ability and passion are not necessarily aligned when it all comes down to it. The films we're covering this week each deal in their own way with passion for the work that doesn't love you back.

So we dove into both of these stories and the professionalism behind them: First up, Zosha writes on Memories of Murder and Bong Joon-ho's keen eye for high-quality craftsmanship. Then, we've got Cate on La La Land, and its mediocre musical highs. Hopefully your work highs were better this week. Either way, TGIF, right?
---

Zosha on Memories of Murder
Written by: Bong Joon-ho and Shim Sung-bo
Directed by: Bong Joon-ho
Distributed by: CJ Entertainment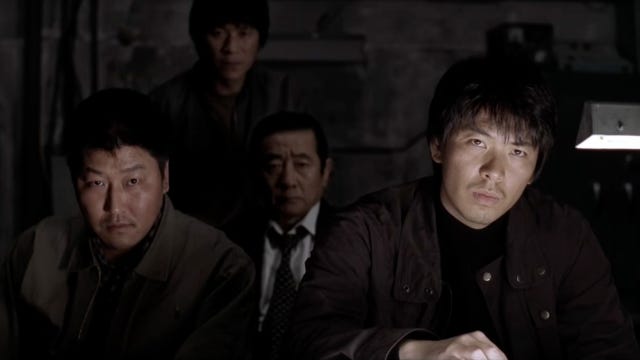 "You look like a corpse," one character tells detective Park Doo-man towards the end of Memories of Murder. "There may be no use asking but...can't you do anything else?" 
Without knowing it, she has just cut to the quick of the film. Park has previously claimed to have "shaman eyes," which can instinctively tell who is a criminal. He believes that while he "may know nothing else," he knows this, he knows policing. By the end of Memories, he'll be proven dead wrong.
As we follow him and his team of detectives' hunt for a serial murderer and rapist (based on the first known serial murderer in South Korea), director and co-writer Bong Joon-ho paints policing as a series of contradictions: He packs the frame with men fervently discussing how to capture the culprit of this violence against women, even as we see them demean and sometimes beat women themselves. A force dedicated to serving their community, too busy monitoring a political protest to prevent another murder. Park, gazing into the eyes of his suspects, looking for answers of what he can't fathom. 
This is a film about failure. Bong has said as much over the years, even if Memories is still crafted to set you up for one thing only to abruptly pull the rug out from underneath you—one of the elegant flourishes that makes Bong Joon-ho such a distinctive and revered filmmaker. His camera's eye is obsessed with the faces of Memories, lingering on them as they cry or gaze straight at us. Park pores over books of photographs he has taken of suspects, waiting for the right one to jump out at him. Though sometimes he doesn't just wait; he and his co-workers are quick to torture when they think they might be on to something. Throughout Memories, his crime-solving senses are shown time and time again to be off—after he coerces a confession, or catches a glimpse of the suspect's incriminating clothes that the others don't. 
So when we finally find the guy, it feels right in every sense. He and his new co-worker—Seo Tae-yoon, who believes "documents never lie" and finds the concepts of "shaman eyes" and torture to be ridiculous—seem to finally be in lockstep with each other. Bong has carefully doled out the checklist for what we can expect of a killer, and Seo, Park, and the audience all know it's him. As they finally locate him for arrest, the camera slowly pushes in on him, staring blankly back at us. 
But, again, this is a movie about failure. Although it was played for laughs, these men's incompetence goes a long way. The detectives may have gotten slightly more methodical in their methods, but they still represent a poisonous regime. As an American viewer in 2020, the innate distrust of policing seems more suspect than ever watching Memories of Murder. But the South Korean context is not to be ignored: Slipped in around the murder are mentions of the despotic party in power at the time, the utter political upheaval that certainly sows the seeds of doubt from a community. One detective hurls a bottle at a television screen for merely mentioning the real life case of a cop who assaulted and raped university students. The police chief is told he can't get enough men to prevent one of the murders because all the cops are too busy patrolling during a protest. 
Wrapped up in there is a sort of monster movie—almost literally: in one scene where we see the attacker snatch a victim, he startles us by bear-crawling towards the camera, through the path of a flashlight. In another movie we would've seen the victim run more, almost make it, be attacked from behind. In Memories of Murder, the reality we get is far more shocking and tragic. What's more, we're involved: we see the murder sink slowly into the cover of the field before the attack, out of the eye-line of his victim. When he strikes, he comes straight at the camera. It's simple but effective; Bong has made it personal. 
As we and the detectives search for the killer, Bong plants ideas, clues, suspects, faces, eyes everywhere. But it's not enough; this South Korea of the 1980s is falling apart, and the rot is coming from within. It doesn't matter what our emotional response to this string of mishaps may be, because ultimately their suspect's DNA doesn't match the killer's. The document never lies, and Park can no longer admit that he knows what to feel just by looking into our eyes. 
In the final moments, Park has found some peace by moving on from policing. He wanders through the field where the bodies were found, on a break from his sales job, and even the grain around him seems brighter. But the final note is a dour one—reminded that the man is still out there, he looks into the camera, searching us and our eyes for the truth. He cannot escape the banality of violence, either in his society or his former profession.
---

Cate on La La Land
Written and Directed by: Damien Chazelle
Distributed by: Lionsgate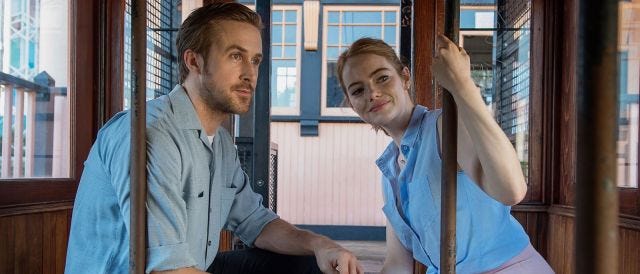 In the time since La La Land debuted and swept the Oscars amidst controversy, my opinion of it has not improved. Considering that I'd only ever seen it once, I decided to have a second look and see if my opinion would shift outside the context of a hotly contested awards season. Turns out, not so much. Because the truth of the matter is that La La Land just isn't a very good film. 
And I don't say this merely because I'd put my money behind Moonlight back in 2017. I say it because Chazelle's debut feature, Whiplash, is one of my favorite films, and one I recommend vociferously whenever I can. Whiplash is an excellent film with a clear sense of itself and a strong narrative direction, but La La Land is little more than a fantasy draped over the bare bones of a plot. The story is more an idea than a movie, and it severely undermines what was likely a truly ambitious project that could have been incredible if it had been given enough time to mature. 
In the film, Mia (Emma Stone) and Sebastian (Ryan Gosling) cross paths in Los Angeles as they are pursuing their dreams—her as an actress and him as a jazz pianist. They face setback after setback, but they fall in love and they keep each other honest. All this happens on the backdrop of LA as an idyllic place full of dreamers, with fantasy musical numbers to match. La La Land was meant to be a contemporary version of the classic studio musical and in theory, it should have worked. 
Chazelle chose his leads well and he couldn't have known that betting on a team that had so much sizzle in the middling Crazy, Stupid, Love would fall flat when he brought them together again. But what became clear over the course of the film is that the problem doesn't lie with either Stone of Gosling, but with Chazelle's script. So dedicated was he to the image of a pristine and dramatic Hollywood spectacle, that he effectively neutered any chemistry between them. We never get to see Mia and Sebastian do anything more than gaze longingly at each other, kiss passionately, (to be fair, they're really great screen kisses) and break into places to tap dance. Any investment in the story depends heavily on an equal investment in the couple's relationship, but instead, Chazelle relied on the audience's investment in the actors themselves.
It, of course, doesn't help that the music of this musical is middling at best. (Here's a #WeirdDrum for you—they stole Lin-Manuel Miranda's EGOT!) Emma Stone is a very talented actress, but vocalist she is not. And neither for that matter is Gosling. And when the only actual vocalist shows up onscreen in the form of John Legend's Keith, the audience is immediately told to despise him! The film's opening number is its best by a wide margin, and it's not even particularly good. And the Oscar-winning "City Of Stars" is actively and objectively bad. The only track that ever quite manages to live up to the bigness and boldness that Chazelle was likely hoping to invoke is "Someone In The Crowd," and even that is largely due to its confident booming, trumpet leitmotif. In layman's terms, he flubbed it. 
There's also the matter of Chazelle's tiresome white man obsessed with the purity of jazz music, which he funnels here through Sebastian. At least in Whiplash, that obsession bore ripe fruit. Here, it merely highlights an uncomfortable dichotomy—white artists who are married to the old ways of jazz, and black artists who understand that the true spirit of jazz is improvisation and innovation—that is, change. In fact, Keith states this difference to Sebastian very clearly somewhere in the second act and it's presented as proof that he's sold out! When Sebastian gets into a rhythm of this new way of playing jazz with a (very successful mind you) band, Mia reprimands him for not staying true to his dream. It's a myopic assessment of an art form that isn't for white artists to be litigating to begin with. 
 Look, I love a musical. I am a person who dragged an ex to see High School Musical 3 in an actual theatre. My bias was always going to be in favour of this film. Part of me hopes that when filming becomes possible again, that someone will take a big swing like this again. [*silently weeps for the delay of In The Heights*] Reviving the classic Hollywood movie musical is extremely my shit. But unfortunately for me, and despite what the stodgy old Oscar voters might think, La La Land is a swing and a miss.
---

¡Viva la Revolución!
Feeling absolutely sick about the ICE detention center news? Here are some steps you can take to help.

You can still help out with fire relief in Oregon and California!
---

Assorted Internet Detritus
Zosha: A lot of things to make your mind on fire this week: Big Oil deliberately mislead the public about how recyclable plastics are! ICE continued the despicable American tradition of forcibly sterilizing women of color! So here are some other thoughts to read after: When "performative" activism does make a difference. The "work friendship" between Biden and Sanders that makes the latter confident in moving the former left. A comforting read about how maybe we're all tapped out and miss having ideas at the moment.

Cate: There were several great reads this week, but the most affecting for me was this heartbreaking essay by model and actress Emily Ratajkowski about the ownership and exploitation of her image and Vulture also delivered with a cutting review of the new slavery horror film Antebellum. Additionally. the LA Times published a close look at the new Paris Hilton documentary detailing her abuse allegations, and the New Yorker published an illuminating essay about the extent of Jessica Krug's harm. Finally, an oldie but goodie: this ode to the iconic bougie style of Living Single's Whitley Gilbert.

And with that, we're done. For Issue #21, it's every man and woman for themselves in Gone Girl and Mr. and Mrs. Smith. We don't mean this to be cisnormative but it's a battle of some of the sexes, y'all! Two films that talk about gender dynamics and their discordance.

Trying our best and still finding ways to yell about movies,
Zosha + Cate <3
Twitter: @30FlirtyFilm
Instagram: @30FlirtyFilm