Issue #16: Love In The Time of Millennials 👩🏿‍💻👩🏼‍💻
Someone Great + Palm Springs


Earlier this week someone asked me: "What else is new in California aside from the weather?" and I truly did not have an answer for them. It has been over 90 degrees for a week now, and it was over 100 at least once! This is all I have been able to really process this week, and even that is a struggle. But in far chiller news: finding love at our age! We've got Cate on the endearing Someone Great, and Zosha on the loopy Palm Springs. 

In even more chill news: This week Cate started her new job at Wondery! Follow her exploits via their wide range of podcasts, but also say CONGRATS CATE! 🎉 (mod note: Cate is terrified) We don't yet know what that means for the newsletter in the long term, but for the short term, the plan is to continue on as normal. If things need to change, you'll be the first to know about it. On with the show!
 
---

Cate on Someone Great
Written and Directed by: Jennifer Kaytin Robinson
Distributed by: Netflix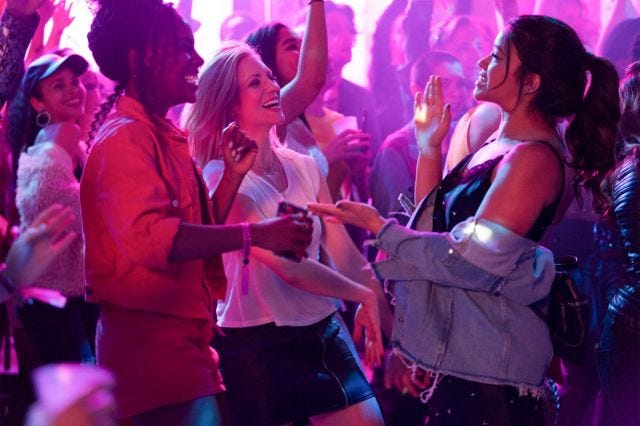 I grew up on romcoms. Reese Witherspoon and Kate Hudson will always have my undying spiritual allegiance because they were the ones telling love stories onscreen when I was in my formative romantic years. The only problem of course is that there was never anyone who looked like me in those movies and that almost paled in comparison to the extremely heteronormative nature of romcoms of the early aughts. Women didn't exist outside their relationships with men, and they had no lives to call their own. 
That's part of why I've been really grateful for the recent slate of female stories that put more emphasis on friendships rather than romance. Someone Great is an especially great example of this, and it puts the leads' friendships on an equal or higher footing than the romances in their lives. 
It's not really a secret that I am a sentimental and romantic person, and I've written before about the struggles in my own friendships. But media has ruined me; I now crave the kind of closeness I might otherwise experience in a relationship in my friendships instead. I think of Booksmart or Broad City and I remember how deeply moved I was and still am by the deeply romantic nature of those friendships. Romances still happen, but they happen as a corollary to the primary relationship that is the friendship. Their friends are where they find true intimacy. 
What works about Someone Great is that it manages to separate those two meaningful kinds of relationships and highlights them without pitting them against each other. Jenny (Gina Rodriguez) has finally gotten her dream job with Rolling Stone but has to move from New York to San Fransisco to take it. The move prompts the dissolution of her nine-year relationship with Nate (Lakeith Stanfield) with whom she's been having issues for a while. The film takes the form of her last hurrah in the city with her best friends Erin (DeWanda Wise) and Blair (Brittany Snow) juxtaposed with the highs and lows of her relationship with Nate.
The recounting of Jenny's relationship to Nate takes primacy in the film. There are several extended sequences of their past interactions—their meeting, their first "I love you," their first fight—for each of them the other has been essential to their growth. They love each other deeply but they're different people than they were nine years earlier when they met in college. They're grown up and away from each other. Their goals are no longer aligned. 
But unlike the Kate and Reese era of romcoms in which a protagonist's only female "friends" were single coworkers with snappy comebacks, in Someone Great, Jenny has real friends who she turns to in her time of crisis. As Jenny contends with the loss of the relationship, she doesn't retreat into herself, she seeks out Erin and Blair and decides that being with them is sufficient and significant enough to patch the hurt she is feeling. The film alludes to their own deep and rich relationships to each other and makes a point of demonstrating how deeply they care for each other. 
More than being about a breakup, Someone Great is about having a crew. Adult friendships are hard and they take so much more work to maintain than when you were seeing each other at school every day. But in this film, they're presented as something inevitable and necessary—an additional component of a well-balanced life. 
Over the last few years, women have finally been given permission to delve into the deep intimacy and primacy of female friendships, and they're fertile ground for storytelling. By acknowledging that friendships are also instrumental in our personal growth instead of stopgaps to a marriage or other romantic relationship, these films are recognizing that the friendships women have with each other are often more or equally formative as the ones they have with men.
---

Zosha on Palm Springs
Written by: Andy Siara
Directed by: Max Barbakow
Distributed by: Hulu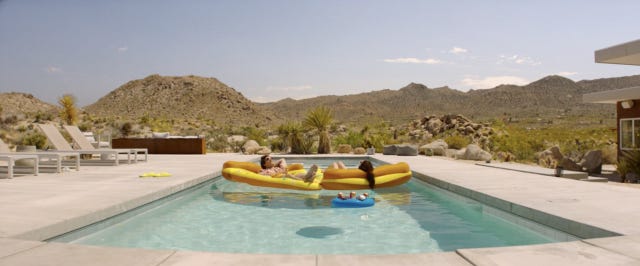 The great thing about Palm Springs is that it contains multitudes. Before you stop me, let me just say I get it, that is a rather banal thing to say about a movie like Palm Springs! But I think it's worth appreciating a bit of the form at play here. 
Before we do that let's get another thing out of the way: It's weird that Palm Springs doesn't acknowledge Groundhog Day. I do not say this to be a jerk who is just pushing for more meta-narratives in films—per se; I mostly mean to acknowledge that in a lot of fictional situations and genre films it's weird to have someone say something like "It's a time loop situation if you're familiar with that" without the sort of obvious follow up of "...like you know that movie, Groundhog Day?" 
I know, I know! This would be incredibly annoying to watch a film wherein the characters just keep drafting off of another movie. I get it; I do not want that movie. I just thought it was sort of strange that the movie tees itself up for it and then dodges it. 
But I think the answer to why Palm Springs doesn't do this is also key to why it's so smart, which gets at my larger point about the host of genres it's catering to. 
What I do want, though, is a tacit acknowledgment at the top to get it out of the way. The film is arguably a sci-fi comedy, but the actual sci-fi elements come fairly late in the game, and with a particularly lite packaging. It's not bogged down in technobabble, but it is, in a timey-wimey, wibbly-wobbly kind of way, definitely some sort of deus ex quantum physics. So, for the bulk of its runtime, it's a rom-com, between two people separately struggling with what it means to live a life of consequence. 
Obviously both of these set-ups have been done before, and the movie tips its hat to the lineage of films that back it up here. But the interesting way is how these things are melded together, where Palm Springs deftly jumps off and complicates a plot like Groundhog Day. 
In the latter, the answer is a simple philosophical exchange: Phil has to learn to be a better person and live for others. Once he does this (truly selflessly), he will be released from the karmic jail he is being looped in. Palm Springs almost immediately considers this, and then bucks it; there's something so compelling about Sarah's (Cristin Milioti) abrupt pivot to nihilism because even though it's still too early in the movie for us to think that would work, we're not unfamiliar with the mindset she's working from. 
Ultimately the lesson she and Nyles are left with is that they have to be more proactive about what they do in their own lives—which is, if not completely, rather opposite of what Phil had to learn. And even then, (ugh, spoiler alert people, keep up) their actual escape comes from a completely alternate source of their own making. 
So often, time loops and rom-coms leave their heroes journeys on a path that feels Fated in some way—we see the path to becoming a better person, a better partner, and all they have to do is solve the equation for themselves. You win and exit the highway of hell once you have lightened your soul, somehow, and learned to live a little easier. The universe has decided to test you with this loop, this person, this situation, and it's up to you to get attuned to the cosmic flow around us. 
Except, here's the thing that I think so many of us are struggling with at this moment in time: The universe's apparent ambivalence to our existence and everything that happens in it is perhaps the most terrifying thing about it. Everything matters and nothing matters, and making sense of what that means—and how it means, if that makes sense—is the journey all of us are taking independently together. 
So, yes, I respect a lot of the forebearers of the genres that the film is pulling from. What I think is so delicious about it is that it opts instead for a universe where the time loop has meaning only so far as Sarah and Nyles (or us with our numerous quarantine screening takes) ascribe to it. Palm Springs likes its poignancy with a touch of Lonely Island zaniness, and so our duo must take matters into their own hands. 
It is such a smart way of achieving so much of what sci-fi sets out to do, gloriously marrying the emotional stakes of the film to the science (or "science") that propels the plot forward. All the while, that's the engine that's powering the rom-com at the heart of the story. It's what manages to make the film feel so unlike any other entry in the canon, dodging feeling derivative in favor of a story about how reality itself can feel endless, and make us question what choices we make instinctively and what makes life a little less mundane. 
Yes, it is banal to say that something like Palm Springs is perfectly calibrated to balance all the varying influences and genre flavors that it's bringing to the game. That's what all movies are doing or trying to do! Palm Springs succeeds because it makes it look easy like all movies could do it. But what I'm trying to get at here is that a film like Palm Springs is deceptively hard to come by, working very hard when it seems light and frothy, to have its heart in the right place. It contains multitudes, but those multitudes are still yolked to a singular direction, all working to get us to one driving point: If the universe really doesn't care what you do, what would you choose to do tomorrow?
---

¡Viva la Revolución!
Some options for your time and money this week: 
Rainbow Railroad helps LGBTQ people escape state-sponsored violence in both the U.S. and Canada.

If you think a life sentence for stealing hedge clippers is a bullshit sentence, then maybe reach out to these Louisiana justices!

Support the efforts to free Tiana Arata, who was arrested for protesting the police state a month ago (linktree link contains connections to more information about her case). 
---

Assorted Internet Detritus

Cate: I am very scatterbrained this week as I'm sure you can imagine what with starting a new job in the middle of a pandemic and facing the prospect of never meeting my coworkers. But I did manage to read some fun shit! First up, this longread about how the autonomy of Disney princesses threatens the nation-state (you know me and the nation-state...) This oldie but goodie about why all women need a fuck-off fund, and lastly this fun little piece about actors and the other actors who usually beat them out for roles.

Zosha: In between bemoaning the heat I thought about: Michelle Obama at the convention, and what the true aims and legacy of her speech will be. This NYT piece on the duplicity of copaganda, and whether you're more likely to see yourself as the person a cop would play ball with or throw on the hood of a car. This article about how Drake needs to grow up if he wants us to take him seriously as one of the greats. Also this lush piece by Angelica Jade Bastien on grief and The Last Black Man in San Francisco.

And suddenly we're at the end of another week. Next week's issue will be a delightful surprise. See you next time!

Starting new chapters and yelling about movies, 
Zosha + Cate <3
Twitter: @30FlirtyFilm
Instagram: @30FlirtyFilm