Issue #14: America The Mythic 🧜🏼‍♀️
Hamilton + Mr. Deeds Goes to Town

Gotta say, right now it's a helluva time to be in America, the Squidward to the world's Patrick and SpongeBob running free. It's probably not the worst thing in the world for us to sit and think about what we've done, and how we're planning to remedy all the mess (and worse) moving forward. 

This week we're sitting with the legacy of the ol' U.S. of A. This week Cate is on the allure and artistry of Hamilton, while Zosha is thinking hard about wealth distribution and the world of Mr. Deeds Goes to Town. It is two distinct viewpoints on America, neither particularly less American, but both complicated in their own way. Read the reviews, watch the movies, then let us know how you felt. Hang in there!
 
---

Cate on Hamilton
Written by: Lin-Manuel Miranda
Directed by: Thomas Kail
Distributed by: Disney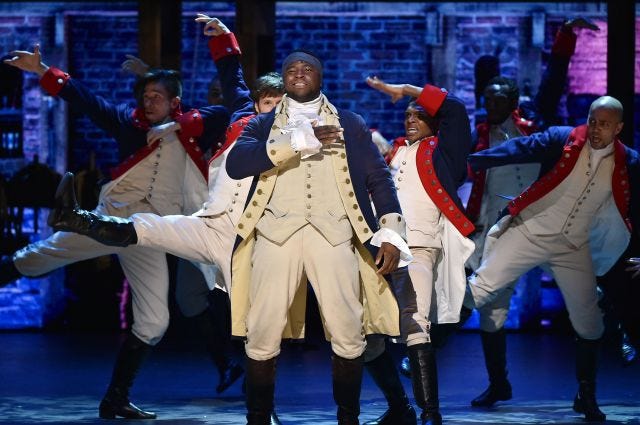 I fully admit to being a complete and utter stan for Hamilton. When the musical hit the scene in 2015, I was hooked. Limited to the official cast recording, I immersed myself in the world Lin-Manuel Miranda created and I gave myself wholeheartedly to the joy of musical theatre. Musicals are extremely my shit. I watched Glee until the wheels fell off (and long after that tbqmfh) and I still won't shut up about NBC's SMASH. Musicals for me, are about opening oneself up to the earnestness of sincerity. They're about leaving your heart out on the dance floor, and Hamilton was that and more. Listening to the Hamilton cast album, however, is an entirely different experience from watching the film on Disney+ — a recording of the stage performance with the original cast. 
It's been five years since Miranda's magnum opus premiered, and in that time it's become something of a pop-culture staple. But for those of us without the cash to spare for a ticket to any of the live performances, the recently released film is a new experience entirely. 
I know the cast album back to front, but it occurred to me watching the film, that I couldn't have told you what the actual plot of the musical was before seeing it onscreen. Despite being sung-through I had somehow missed major plot points along the way. I could tell you the highlights, but I couldn't have given you a summary. 
One of the benefits of the film is how much additional visual information is added to the experience of the story. The cast album is its own entity — an immaculate rendition of the musicality of the show. But the movie gives life to the actual performance of those same songs — it's a stark difference that I wasn't expecting. The performances are more rugged and less polished. You can see the work (and sweat and spit) that goes into them but those elements enhance the experience exponentially. 
The acting alone added about 15 new layers of meaning to the show. With the added experience of seeing the work performed, new stars emerged. For example, despite being a huge fan of Daveed Diggs as the Marquis de Lafayette, his Thomas Jefferson never quite hit for me. But seeing Diggs' swagger and arrogance ooze onto the stage made all the difference. Suddenly, I got it. Diggs as Jefferson is a dandy, and after that realization, everything fell into place. 
The same was true for Phillipa Soo's Eliza Hamilton. While I've always loved her numbers, her impact on the story was never clearer to me that when I saw the film. It's easy to default to Renée Elise Goldsberry's Angelica as the show's de facto lead given her flashy number in "Satisfied," but seeing Soo's performance made it clearer than ever that Eliza is the show's emotional center. From "Helpless" to "Burn" Soo makes the difficulty of living in the shadow of a man concerned only with legacy ever more clear. She is a powerhouse, and I don't think I would have ever fully understood that without seeing the film. 
The movie is chock full of incredible performances — there's a reason the show was a sensation — but I would be remiss not to mention Leslie Odom Jr. as Aaron Burr. Burr has always been my favourite character in the show (SMASH Hive rise up) and it helps that he has most of the show's best numbers, but the film gave me a new read on the character I had never seen before. From the album, Burr to me was a focused if irritated presence in the story. He had a plan and Hamilton derailed it. But Odom's actual performance of the role belies a desperation and frustration that isn't there in the cast recording. Hamilton was more than a thorn in his side, he was the reason for the derailment of his ambition. 
Truthfully it was fascinating how much difference the acting made. Even Chris Jackson's George Washington came across as far more noble and laudatory than he did on the album. His rendition of "One Last Time" genuinely made me tear up. Sure he owned slaves, but I dare you not to get emotional as Jackson explains his reasons for stepping down from office. It's heavy shit!
90% of the show's performances supersede the cast album, which all in all is a good thing. Jonathan Groff's King George is a sight to behold, and far funnier than the album gives him credit for. But there are critiques to be made (most of which I detailed for TMRW) and it's important to recontextualize the show's world within the current political climate. That said, as many issues as I might have with Hamilton there's no denying that it is a work of true genius, and it has earned its place in the culture. I can't think of a single reason not to see this truly incredible film.
---

Zosha on Mr. Deeds Goes to Town
Written by: Robert Riskin
Directed by: George Cukor
Distributed by: Columbia Pictures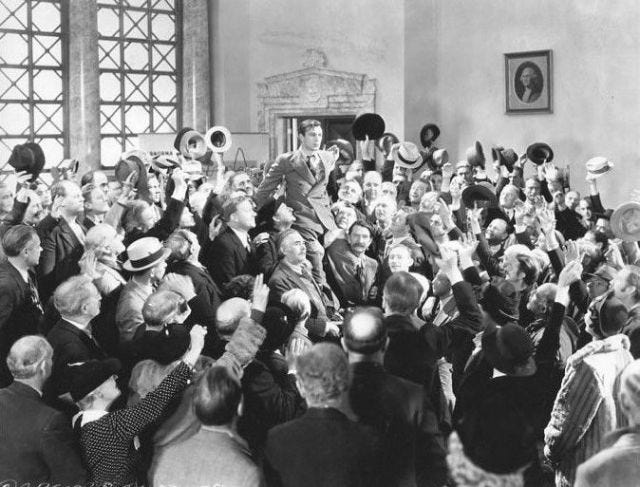 What is the value of money? I know, I know—the value of money is what we assign to it; a dollar is worth a dollar because we all agree that it is. I ask this not to be pedantic, but rather because this is a question that Mr. Deeds Goes to Town considers deeply. 
After finding out that his girlfriend was actually the reporter writing rude stories about him, Longfellow Deeds—good-natured hayseed from Mandrake Falls and unlikely recipient of his uncle's $20 million estate—resolves to give his money away. That's the logline, anyway. But it's not quite as simple. Rather, he's found in a moment of weakness by a man who just lost his farm, whose family has been standing in the bread line for a while now, who's been reading the news coverage about him and is almost ready to kill the man who'd rather feed donuts to a horse than help those in need. 
It's that moment that Deeds realizes something that has been irking the audience from the jump: this man who greeted news of his inheritance with a shrug and an "I don't need all that money"—why the hell is he so concerned about managing it all responsibly? 
It got me thinking about how deeply the weights of capitalism and rhetoric have sunk their claws into all of us. Deeds is initially interested in both being a good person but also staying accountable for the $20 million being spent. He pledges to take care of his uncle's common-law wife and their child. But he also tells the New York Opera that a $180,000 shortfall isn't something he wants to just pay out; he expects them to run their business like a business. It's a weird tension, right? He is simultaneously grossly disinterested in the trappings of money, eschewing any attention or special treatment in favor of those who are more "entitled" to it, implicitly insisting that his payouts be earned in some way. 
It's only once he's greeted with the farmer, a broken man who has mouths to feed, that Deeds sees what the money could be worth. He sits across him, watching the farmer eat the meal he had prepared for his lady love, and has an awakening. The film paints it as an act of depressed desperation, heartbreak, without really thinking it through. But Gary Cooper plays it like a more solemn one—not a lightbulb over the head moment, but something shamefully dawning on him too late. Immediately after, he begins to give his money away freely, with a line of (apparently) 2,000 men out the door looking for some help. 
He is, subsequently, swept up into a hearing for his sanity: the greedy money managers all around him would rather see him ruled mentally unfit, as they've been angling for more control of the pie anyway. This film shares a lot in common with Frank Capra's other works—not least of which an interest in the personal ramifications of the news industry and the opposites-attract love story at the "heart" of the film—but smuggling in a layman's perspective on classism is probably the most valuable. Though the film is ostensibly a love story between Deeds and reported Babe Bennett (Jean Arthur), that whole thing is wrapped up neatly in a way that folds in to support the larger questions of Deeds' wealth redistribution, rather than the other way around. The whole final sequence is a courtroom scene that shows that "the powers that be" would rather label this man insane than admit that he could just…give his money away. 
The whole thing was reminiscent of the "You are Jeff Bezos" game, a sort of choose-your-own-adventure style browser game that tries to illustrate just how much money our resident richest man in the world has. The mind truly boggles, honestly! And while you could look at a game like that as anti-capitalist propaganda—or rather, you could choose to see that as a bad thing—Mr. Deeds Goes to Town would rather you ask: why the hell is that so crazy, exactly? 
There are similarities, of course, between the timing of Mr. Deeds' release (1936) and our own time now (the 2020 none of us could have possibly imagined), both marked by historic wealth disparity and economic unease, not to mention a host of other problems. But it's a particularly interesting moment in history to screen the film, a time when the U.S. has been forced and asked to subscribe to mutual aid more and more. The pandemic and all the economic insecurity that comes with it was the logical, eventual endpoint for a society that had people routinely turning to GoFundMe to pay for what should be basic medical procedures, and created deep-rooted divisions on race, gender, and class lines (to name a few). 
We find ourselves in a time when mutual monetary aid is about as much as we can offer to each other, and it's certainly not nothing. What Mr. Deeds got me thinking about is, clearly, the overall value of such things; how a dollar could be worth so much more to one person than the other, how disgusting that feels, how the whole system seems to be rotten. It needs a lot more than just one millionaire* opening his wallet and divvying up the funds, but in the meantime, we have to also recognize what an immense amount of change that can be in a single person's life—just ask the farmer, treated to a great meal by the morose man he attempted to kill mere minutes before. 
I guess what I'm really getting at, tritely, is: can someone please make sure one Jeffrey Preston Bezos has seen this? And then how tf do we get him to open his wallet. 
---

¡Viva la Revolución!
You may have heard about the explosion in Lebanon this week. Right now it seems like a good time to put some resources their way — by donating to the local Red Cross specifically through their app, or other local organizations on the ground. 
 
---

Assorted Internet Detritus
Cate: I finally moved this week so I've mostly been catching up on reading. Firstly, this great short story from writer Bolu Babalola (whose book Love In Colour is coming soon), this long read on the latest scammer scandal, this excerpt from a new book about the history of boy bands, and finally, this short film Tender about the morning after for two queer women.

Zosha: Reading just about everything I can get my hands on regarding Black is King, including this, and this, and this, and this, and this, and Cate's :) Also political correctness is 100% destroying America, just not in the way we have been conditioned to think about it. How Black authority figures shaped the Seinfeld experience. And how ~wellness~ is the worst answer to our climate (and other) anxieties of the moment.

In the next issue, we're talking Heat and The Old Guard. See you then!

Surveying the state of the country and yelling about movies,
Zosha + Cate <3
Twitter: @30FlirtyFilm
Instagram: @30FlirtyFilm