Discover more from Thirty, Flirty + Film
Hot takes and cultural criticism in 30 minutes or less.
Issue #12: Hell Hath No Fury... 💋
Intolerable Cruelty + Misbehaviour

You made it through another week. Congratulations! You deserve a little treat because we say so. Things are hard right now and we won't pretend they aren't, but we will do our best to bring you a little joy in the form of #movieyelling about things we've seen, loved, hated and gotten obsessed about. We gotta snatch our happiness where we can these days. 

This week we're talking the Coen Brother and Intolerable Cruelty from Cate and the newest historical feminist tale Misbehaviour from Zosha. The thematic through line? No one's more powerful than a petty lady with the time and inclination to nurture her grudges. Truly, we love to see it. So sit tight, get your petty pants on and let's dig in.
 
---

Cate on Intolerable Cruelty
Written by: Robert Ramey, Matthew Stone, Ethan Coen and Joel Coen
Directed by: Joel Coen
Distributed by: Universal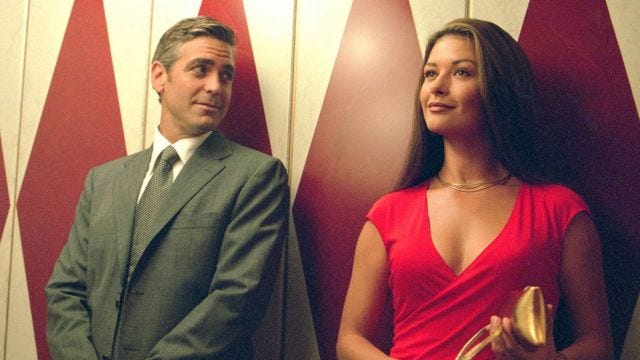 The first thing you need to know about Intolerable Cruelty is that it features Catherine Zeta-Jones at the height of her power. The second thing you need to know is that it is a perfect, campy delight, and calling it a "battle of the sexes" does not do justice to the deliciousness of how ridiculous the story is. 
Recapping the plot is frankly a waste of time, but you do need to know the basics: George Clooney plays Miles Massey, a cut-throat divorce attorney skilled at getting favorable settlements for his clients regardless of their marital indiscretions. Catherine Zeta-Jones plays Marylin Hamilton-Rexroth-Doyle-Massey, a divorcée who ends up on the wrong side of Miles' skills and eventually exacts her revenge. 

Aside from Burn After Reading, I am not familiar enough with the Coen Brothers' work to make pronouncements about their style or skill.  But I do know that I enjoyed both films immensely and this one especially. Billed as a screwball comedy, it's an extremely fun film with predictable twists that are still satisfying despite their inevitability. 
Miles is at the top of his game and bored by his win streak. He's so good that there's no longer any challenge to his skill. After winning an especially difficult case for a female client who managed to get around video evidence of her infidelity, he laments that he feels unfulfilled. But his world changes when Marilyn enters his life. He is fascinated by her and cannot accept that he cannot figure her out. 
There are several shades of the musical Chicago in the plot—which also starred Catherine Zeta-Jones and was released the year before—and I kept casting my mind back to Richard Gere's Billy Flynn as Clooney spun endless tales of bullshit about how he would get his cheating clients to avoid paying a penny to their spouses. But Zeta-Jones too evoked her own portrayal of Velma Kelly in the coy but flirtatious way she interacted with Clooney's Massey. As a wealthy housewife exposed for her calculated gold-digging—she purposely married a man she knew would stray so she could collect a settlement—she is more than aware of not just her affect on men, but her affect on Massey specifically. Much of the fun of the film is derived from the back and forth banter or trying to figure out who will come out on top. 
But as in Runaway Bride before it, men are once again proven to be the chumps. Despite all his railing against love and the institution of marriage, all it takes is one verifiably false lie for Miles to commit himself to Marilyn and throw all of his rules out of the window. By the time he realizes that he's been duped, his only recourse is to attempt to have her killed!
The characterization is a strong point of the film, with Miles introduced by and continually obsessed with his teeth—a nod to his vanity and self-assurance. Whereas with Marilyn, she is distinguished by her beguiling looks and ability to refuse his charms. It's a fun bit of cat and mouse play that allows you to invest in them both and pick a side.
Ultimately though the ending tends to undercut the film when they end up together. It is fine in a narrative sense, but the fun of the film is watching the two battle each other. There's a deflation that happens when they throw their feud away to make out in an office. Regardless of whose side you're on, there's a lingering desire to see the movie's themes play out: win without compromise.
The standout by far is Catherine Zeta-Jones, who maintains such a casual aloofness throughout that it isn't hard to see why Miles is so taken with her. Marilyn's con is long, but it's worth it. Her goals are clear—independence—and running through Miles to get there is the most natural thing in the world. There is a specific point in the film where the audience gets wise to her coming con, and from then on there's nothing more fun than speculating when she will drop the other shoe. I cannot possibly overstate that it is so incredibly fun to watch everyone involved squirm as they try to make sense of the story.
Intolerable Cruelty isn't a film that answers the questions about the gender wars, but it's a fun, campy romp that is a great way to spend an hour and a half. It might be worth it just to hear Zeta-Jones purr, "I could have you disbarred for that."
---

Zosha on Misbehaviour
Screenplay by: Gaby Chiappe and Rebecca Frayn
Directed by: Philipa Lowthorpe
Distributed by: 20th Century Fox/Walt Disney Pictures/Motion Pictures UK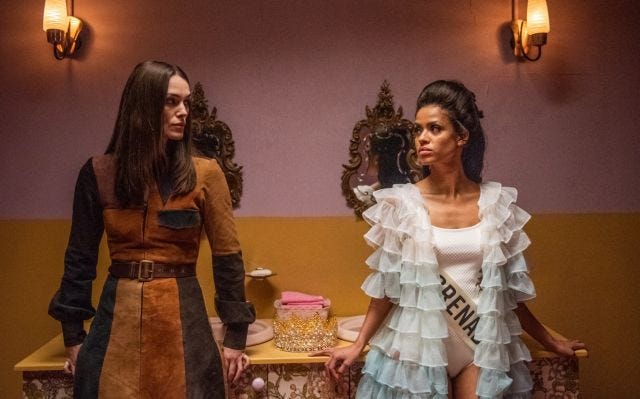 There is a scene, very late in Misbehaviour, that almost makes up for the rest of it. 
In it, Sally (Keira Knightley) has been apprehended by the cops for protesting the 1970 Miss World competition along with other Women's Liberation group members. She is permitted to use the bathroom and, after bustling in with an air of frustration, sees Jennifer Hosten (Gugu Mbatha-Raw) taking a moment to herself; Miss World 1970 herself, nee Miss Grenada. The two are suddenly in their own showdown: Sally, defending the actions of the protesters to demonstrate against the sexist establishment that pits women against each other; Jennifer, defending her right to compete and inspire other Black girls to make a place in the world for themselves. 
We have, until now, largely been split between their views: a real problem of Misbehaviour is that there are too many siloed parties getting a chance to make their case for themselves: We follow the Women's Lib members, a few of the contestants, a bit of behind-the-scenes perspective on the Miss World producers, and, for some deeply inexplicable reason, Bob Hope, the special guest of the night in question. 
But perhaps the biggest problem is that it cannot quite escape the basic trappings of the historical fiction film. When we meet Sally, she's an Oxford-educated single mother who's tired of being talked over in her fight for a seat at the table; Jo Robinson (Jessie Buckley) is her polar opposite, right down to her flaming, curly hair and "fuck the establishment" politics. In Misbehaviour's eyes, their relationship is always about the melding of those two extremes, never the overlap between them. So instead of feeling like radical feminists, they feel like stock characters, with politics that fit neatly onto t-shirts. 

Meanwhile, across town, Jennifer Hosten is trying to break out of her own mold. For Jennifer, and Pearl Jansen (the "Miss Africa South," brought alongside her white counterpart "Miss South Africa" as the first-ever Black representative of South Africa), the contest is more than just a chance to be on TV and look pretty; it's a chance to be seen, and maybe even get a leg up in the world. While the mostly white Women's Lib group is rallying against something they already have, Hosten and Jansen are being asked to turn their backs on something that is still out of their grasp. 
These are not notions that the movie ignores, per se. But it certainly gets lost in the clutter: As stated above, the Women's Lib group skews fairly two-dimensional, as does Sally's turn towards more actualized feminism. The plights of the organizing committee behind Miss World seem mostly informative, and for whatever you can say of the emotional journey we see womanizing Bob Hope (Greg Kinnear) go on, the character does not seem aware of it.  
So when Sally and Jennifer find each other in the bathroom on that fateful night, they are both right, and the tension there finally feels well earned. Here we see the central tension of so many activism movements—the recognition of intersectional interests and how they do (and, more aptly, how they don't) overlap—played out in a way that is both deeply embedded and distantly removed from the protest and controversy happening outside. 
Though the two disagree on the advantage of a beauty contest, there is something absolutely bewitching about the scene: Mbatha-Raw is steely and strong, Knightley hesitant but firm. Their dissent is allowed to coexist, neither one wholly in the wrong or right either. 

For all the controversy around that year's competition, it would be the first time a Black woman was crowned Miss World, and with a Black runner-up no less. The beautiful thing about this scene is it lays bare the distance between these two women mere feet from each other: they cannot recognize the other's victory as a triumph. For a brief second, they exist in just that ladies' room, allowed to dive into a (slightly) more nuanced discussion than had been granted to either of them outside it, in the world of black-and-white support. 
And then, it is done. As the movie closes we see flashes of the real-life women, now older but no less beautiful. We learn of their real-life accomplishments, how their lives hooked through that competition onto wholly different stratospheres. It is, once again, Misbeahviour's greatest failure at work that it is more invested in a shallow look at the lead up than a nuanced look at how it changed them. 
But the moment in the bathroom still lingers in my mind. Before too long, the policemen bust in to see what's taking Sally so long and drag her out to join her co-conspirators in the back of her van. Jennifer watches them go but yells after them to not hurt her. Even in opposition, women have to find some common ground. 
---

¡Viva la Revolución!
Our major concern this week is the LA Tenants Union and their fight for rent forgiveness during COVID-19. As cities back into lockdown and Congress debates more aid, community funds like this one are trying to make sure people can stay in their homes and still eat while they are away from work and the economy they are accustomed to. You can donate directly to the #FoodNotRent Solidarity Fund and even make your donation recurring for six months. The site also has a step by step guide for LA residents to join their local rent strike. Times are tough, but we can support each other!
 
---

Assorted Internet Detritus
Cate: As usual, I'm thinking about cops this week. Specifically, I'm reading Alyssa Rosenberg on why we should go for the jugular and just cancel all cop shows. I'm also moving soon, so I'm thinking a lot about mattresses now that I've had to buy one myself for the very first time. This essay about scamming the free return period of online mattress companies was a fun if not particularly informative read. Zosha and I also recently watched Netflix's The Baby-Sitters Club and it was perfect, wholesome summer viewing. I loved this essay about the origins of Claudia Kishi's "iconic" see-through landline phone and I even made a stop by NPR's Pop Culture Happy Hour to talk about baby-sitting as essential labour!


Zosha: Have you often bandied about with your friends over whether the electoral college should cease existing? If so then here's some more fodder for the fire: turns out the states invested in keeping it are not the small ones (as is oft discussed) but rather the southern ones, invested in the white supremacy of it all. I also caught up with this old but no less interesting feature from Kyle Turner about why a non-white James Bond isn't a simple matter of swapping Idris an actor of color into the role. Also my dear friend Eleanor wrote about how wfh presents distractions (and how that might not actually matter for the bottom line?)!


Once again we find ourselves at the end of another issue. Send us love notes if you're so inclined. Next week we're talking Saving Face and Contagion. Ciao!

Nursing our grudges and yelling about movies,
Zosha + Cate <3
Twitter: @30FlirtyFilm
Instagram: @30FlirtyFilm