Discover more from Thirty, Flirty + Film
Hot takes and cultural criticism in 30 minutes or less.
Issue #1: Ladies Doing It For Themselves
Lady Macbeth + Klute


Welcome to the very first issue of Thirty, Flirty + Film! We're so excited to finally be launching this project and to finally have something to do with ourselves, and we're overjoyed that you love us enough to subscribe. Thanks for joining us!

As we laid out in our introductory letter, the sole purpose of this project is to force us both to write. As critics, we're both accustomed to keeping up with a culture that moves at the speed of light. But living under COVID-19 quarantine was making us feel a little stuck and very aimless. So the brilliant Zosha proposed that we try something to get us excited about movies again and invited me to join her: fully formed reviews written under strict 30 minutes deadlines. You can find all the details of the restrictions we've mutually agreed upon here, but for now we're just going to get on with it. 

This week we're writing about female protagonists who are stirring the pot; consider the alternate title for this week: "Female Characters Doing Some Wild Ass Shit." First, me on a film I legitimately thought I had imagined until I found it streaming on Amazon, Lady Macbeth, and then Zosha on Klute, a film that cements that Jane Fonda has always been great.

After that you can have a little taste of we've been reading this week, as a treat. Enjoy!
 
---
Cate
on
Lady Macbeth
Written by: Alice Birch
Directed by: William Oldroyd
Distributed by: Altitude Film Distribution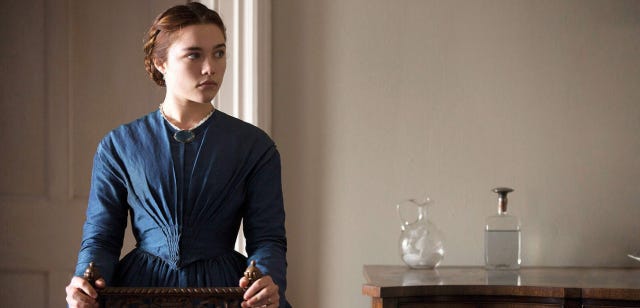 It is truly impossible for me to overstate how quickly I turned on Lady Macbeth. Or perhaps more accurately, it is impossible to overstate how quickly I turned on Lady Macbeth's titular character. From the trailer for the film, I initially assumed that Katherine Lester (Florence Pugh), the young and unwilling bride to a boorish husband was going to spend the movie's runtime in a spectacular extramarital affair with a stable hand, in open defiance of the patriarchal norms of her time—a regular, run-of-the-mill, period feminist fantasy. Hoo-boy! That is not what I got. What happened instead is that the film became a blueprint for how easy it is to bolster the myth of white female fragility.

I recently devoured all of Hulu's fantastic Little Fires Everywhere. It's a story about class, race and motherhood, and its central conflict is between a wealthy white mother and the working class black mother she asks to be her maid. Excuse me, house manager. In one of the episodes, the former discovers the latter is on the opposite side of an issue that matters deeply to them both, and protests that she thought they were friends. 
"White women always want to be friends with their maid."
I gasped when she uttered the words, and I remembered them watching Lady Macbeth and the way Katherine continually scapegoated and abused her maid Anna (Naomi Ackie) for the various atrocities she decided to inflict upon her household. By the movie's end, Katherine had killed three people and terrified poor Anna into muteness, but it is Anna who is blamed for her crimes and must suffer the consequences. All I wanted was some demure Pride and Prejudice-style yearning for forbidden love!

I did however appreciate the story's acknowledgement of the upsetting racial dynamics at play. It was unsettling to watch, but unfortunately, also to be expected. Ackie plays the constant terror of being volleyed back and forth between sadistic white noblemen and women with terrifying calm. In truth, this is really her movie. More than Katherine's affair and the lengths she will go to protect it, Lady Macbeth is about Anna's recognition of her own disposability. Her instinct to adhere to the time's overly stringent moral codes makes sense given that she has seen that she is the one who will suffer if her Mistress does not follow them. It reminds me of the frustrating racial dynamics of The Handmaid's Tale's third season. There is very little solidarity to be had when one woman has all the power, and the other has none. 

Despite all that, the film is genuinely gorgeous. The cast is tiny and the locations number under 10. Director William Oldroyd squeezes every inch of drama out of what is largely quite a silent film, and he manages to make the stakes clear even as we know Katherine will merely continue to dispense with them. Florence Pugh's work is relatively new to me, but it was in interesting exercise to come back to an earlier performance after seeing her in last year's Midsommar. The best actresses have steely command of their faces, and Pugh expertly communicates whole landscapes of information with the mere twitch of an eyebrow or a well-placed sigh. It's not surprising she's become a new rising star. 

This isn't the sort of film I would likely watch again, but it is one that I'm glad I made time to see. It is a striking film that plays with the viewer's expectations and delivers a twisted tale that contradicts our understanding of white women's innocence and presumed victimhood. 
 
---
Zosha
on
Klute
Written by: Andy and Dave Lewis
Directed by: Alan J. Pakula
Distributed by: Warner Brothers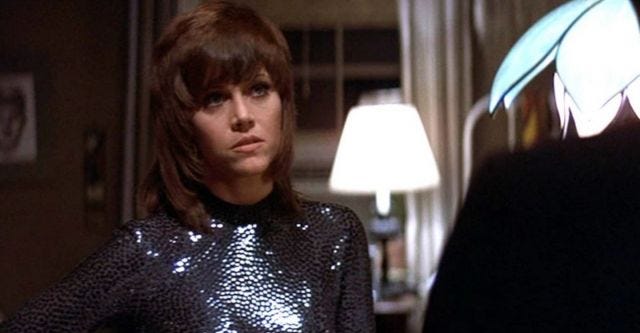 OK so, Klute fucks. ​

From its very first moments it seems to be edited to leave you out of the loop. We see glimpses of a tape recorder, a family meal, a knowing glance. Warm light cuts to darkness; the greenery suddenly feeling like a cage rather than a home. A man is missing. A woman's voice is beckoning us in. Something is deeply off. Roll credits.
This framing — like all Klute's framing — allows us a sort of partial scope into the seedy, dangerous story. Even the title leaves something out: The movie may be named after Donald Sutherland's moonlighting P-I, but it's Jane Fonda's Bree Daniel that is the star of the show. She's the femme fatale, only this time it is her story and her emotions that guide the noir. The very fabric of her world is imbued in the filmmaking, with the camera's eye so selectively trained on her section of it. It is always so careful to show us what to know, what's important. And yet, it almost haphazardly dolls out the "bad guy" of the whole affair 45 minutes in (unbeknownst to Bree). It seems to tell us that that's not the real thrust here. The real story is her.

As Bree moves through the world we see a constant negotiation. But we also see her in control of a lot of it. She refuses to transfer any more power than she wants (than she has) in conversations with the men around her. She knows her effect, her place in the world — it's all up for grabs. And she is positioned so often at odds with these men: they leave the screen to get her a ginger ale, she stays in it. One man sits in the dim light of his office and we see her in mostly silhouette. 

It's this power struggle that makes her first scenes with Klute so remarkable. At first he's just one of the many, many men she refuses to let in. When he finally forces her hand, their differences are communicated even as they share the screen: She sits, he stands; he looms in shadow while she literally gleams beneath the kitchen light. Bree only lets him close because she thinks she's got him in her web — only to find that it was all a gallant act to get her out of harm's way. After he attempts to chase down the prowler in her apartment, the camera finally holds them on equal footing. And it feels like a moment of completely earned intimacy from all parts. They speak frankly, make plans, gaze clearly at each other in full light. This is the start of a beautiful friendship — or maybe something more.

The camera will continue to dance with them in this way. Rather than an easy coming together, theirs is a tango, back and forth, up and down through New York City. The camera's eye almost seems to act, at times, like the pull of destiny, dictating where people will end up as much as communicating their feelings. If it's moving down the line at a casting call it'll keep moving past Bree, and if it's positioned just out of her reach it'll tug her along, stringing her out until she is in the arms of her former pimp.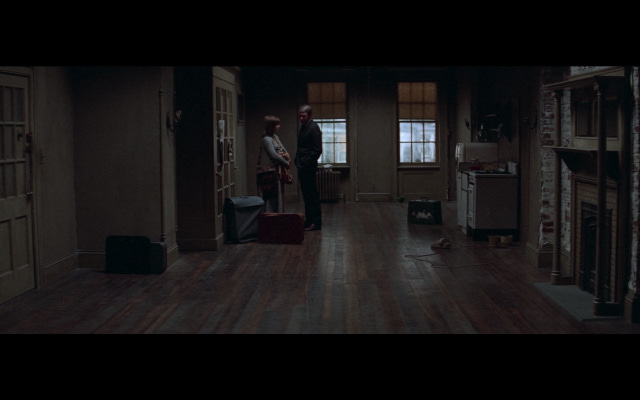 This back and forth of the camera's role is what drives the tension of the film (after all, who knows where destiny is taking us?). Yes, it also acts as a conduit for the voyeur threatening Bree. But all the power differentials, the romance, the intimacy — they live there too. And they're just as much a source of paranoia as a crazed killer. 

That this is all told around a woman struggling to comprehend the emotional changes happening to her makes it all the stronger. If the film has "feminist" laurels to rest on, it's in the space it makes for her to feel supported and looked after, and truly grapple with it. Her therapy scenes are shot like an interrogation because they reveal the depth of her self-doubt. The dialogue can be clunky here, sure, but Fonda really sells the hell out of the utter bewilderment of what Bree's feeling. Later in the film, her therapy is intercut with shots of her watching Klute, and Klute watching her right back. Bree's voice is frequently disembodied from her, but here she feels more like a narrator than a narrative device.

In these moments, the camera stays away, as if to illustrate how much distance between them there is, how far Klute has to cross to come to her side (and he does). Theirs is a gentle give and take, unlike almost anything I've seen in film. Every ounce feels earned by their performances, generous in such different ways. He's quiet and taciturn, not so much unwilling to share as disinclined towards it. She's loud and flashy, masking her deep-seated control issues. Each finds a balm and a balance in the other. And each step towards each other is delicately captured by the camera. 

Perhaps that's why Klute's ending manages to be a perfect bow to the whole affair. The whole time it has been their journey towards each other that feels like the mystery at the heart of the film, not the whodunit thriller that brought them together. That all plays by the rules of a stopwatch; for all we know Klute and Bree are a time bomb. 

So in the end, as she packs up to leave him, there's a lingering sense of uncertainty. He is neither the white night nor the hardboiled macho man, and as the camera has clearly communicated, he's been pulled into her orbit and she was the one doing the pulling. As it rests in the stillness of her empty apartment, we are just as much left to process and ponder the step she's taking with him now. The camera can only be her partner in destiny for so long. Now she's taking a real leap into the unknown. Whether this is a happy ending or just a happy chapter is just another thing Klute's framing doesn't let us see.
 
---
Assorted Internet Detritus
Cate: In a late entry this week, I'm reading Linda Holmes' newest project I Am Not Your Jane. It's "epistolary fiction project" taking the form of an email correspondence between Sam, and "the wrong" Jane. As of writing there are 8 entries in the series, but I imagine there will be many more soon. Linda is the host of one of my favourite podcasts, Pop Culture Happy Hour (which has its very own newsletter!) and released her first novel Evvie Drake Starts Over last year. It's a wonderful contemporary romance novel about a young-ish widow and an athlete with the yips. I was lucky enough to get a signed copy last year, and reading it is what made me realize that I really like romance novels! Since we're all under lockdown and you might need something to read, these two projects are my recommendations.

Zosha: This week I am fetching the bolt cutters along with everyone else, so I've finally made my way through this lovely New Yorker profile of Fiona Apple, as well as this Vulture rundown of what every single track is about (I'm nosy!). Despite not ultimately loving its whole ish, the thoughts and notions raised by Alex Garland in his new Hulu show Devs has stuck with me, perhaps especially since reading this Ringer piece and thinking about what a massive oligarchy we're trapped in. (I know we said spoilers were a given, but I encourage you to watch the show (and, again, @ me about these things!) before pouring through a dissection of its nuances.)

That's all for this week. In Issue #2: Colossal and Death Becomes Her.

Breathing from our diaphragms and yelling about movies
Zosha + Cate <3
Twitter: @30FlirtyFilm
Instagram: @30FlirtyFilm